If you have additional needs or disabilities and you are aged 8 to 108, then we would love to welcome you to Sunbeam Swimming Club.
We charge a small membership fee once per year:
£10 for an individual swimmer
£20 for a family
Swimming session fees are:
£3 for one session
£5 for both sessions
You only pay for the sessions you swim and we send you an email at the end of every month to tell you how much money to pay.
All we ask is that every swimmer who enters the water, including carers, families and friends, completes a joining form first so that we have your medical and emergency information. Please visit the contact us page of this website to join.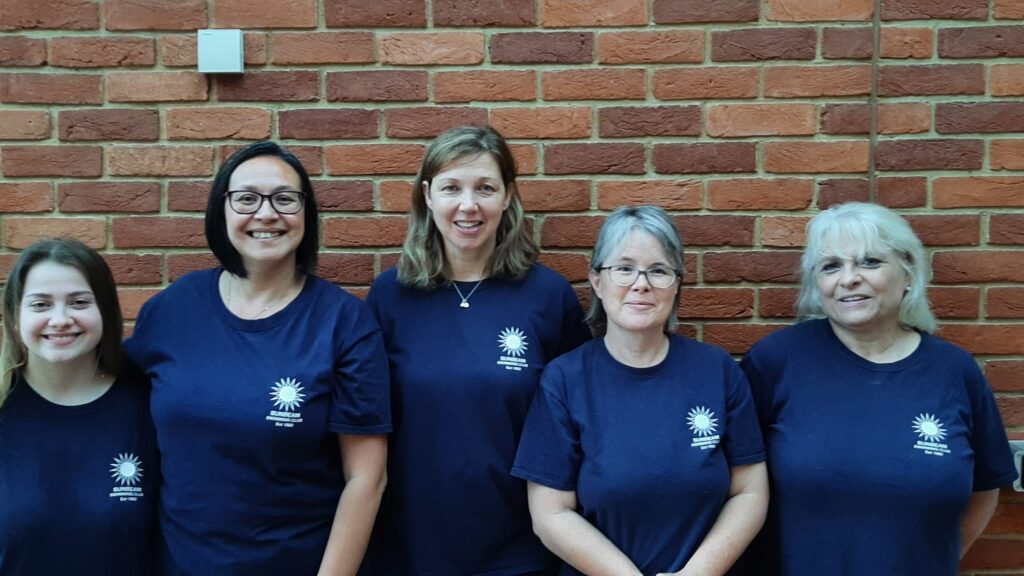 Sunbeam relies on volunteers for every aspect of running the club. From helping in the water, to meeting swimmers and carers in the spectators area, sending emails, updating social media, doing the accounts and deciding what events we want to arrange.
If you are interested in volunteering, there's always space. Things you might like to help with include:
Arranging a raffle or sponsored event

Organising a cake sale

Liaising with the public, council, PfP Leisure

Getting flyers and posters printed

Advertising

Applying for grants from businesses and organisations

Sending reminder emails when membership is due for renewal

Organising an event like a fun splash or a Christmas get-together

Ordering kit like t-shirts and hoodies

Updating the website or social media

Helping on dry land

Helping in the pool

Talking to new and interested swimmers, their friends and families

…..and so much more
To volunteer, please send us your details using this form We would love to hear from you. We take the safety of our swimmers very seriously so once we have received your enquiry, we will advise you of our full application and references process for key roles.
Tenerife
Our summer 2023 challenge was accomplished by the end of August, with our collective distance having taken us from our starting point at Santa Cruz de Tenerife all the way south, then to the west side of the island and back along the northern coast back to our starting point. What a fantastic effort!
The swimmers have really enjoyed encouraging each other to add up their lengths, widths and shorter distances each week.
Ibiza
In 2022 our swimmers set themselves the task of swimming the distance around the coastline of Ibiza.
All 40 members who took part in this brilliant challenge received medals which were awarded at our AGM the following spring.

At the AGM we also asked swimmers what they wanted to undertake for their next summer challenge and they chose Tenerife!
Isle of Wight
This challenge was great fun with swimmers choosing to start measuring their swims from Gosport, to Ryde and clockwise around the island all the way back to Ryde and finishing again at Gosport. Wow!
Swimmers received hand made medals presented to them as an award.
The English Channel
In 2019 the swimmers chose to challenge themselves to see if they could make it to France. 
Together they clocked up an impressive 1352 lengths by 27th October.
Pictured above are Nick (left) and Robin (right) counting lengths for a swimming event.
One of our most regular and dedicated swimmers is Robin Ayres, which is no surprise as he was one of the four founding members of Sunbeam Swimming Club, in 1982. Ann, also a founding member swims regularly with her daughter too.

Robin joined forces with others to set up Sunbeam because there was a real need for disability inclusive activities in Horsham. Swimming is one of the best ways to keep fit and active, whatever your ability level and as well as the physical benefits, it is also a very sociable way to get out and meet other accepting people.
Many of our members bring friends, family and carers to join in. Sometimes it is to help with specific needs, other times it is so that they can enjoy swimming together in an accepting and inclusive environment.
We don't do official swimming levels and we are not a competitive club, so there is no pressure to swim fast or far. Quite a few of our swimmers enjoy having a dip in the pool with a float and joining in with friends.
With the support of our fantastic volunteers, it is always great to see so many swimmers progressing with their skills and technique when they want to and although we are not a competitive club, some of our talented swimmers have taken part in galas and competitions. We usually arrange the lanes so that the swimmers who want to do some focussed training are grouped together whilst those who are happier swimming at a softer pace, using floats or have helpers, are in a separate lane.
We like to acknowledge all types of achievement, so we sometimes set challenges where we all add up together the metres we have swum and see if we can cover the distance between two places on a map. Of course, this means that we have a get-together to award medals, certificates and say thank you to those who have helped us.
Because we want all people with disabilities to be able to afford to swim, we try to keep swimming fees to a minimum. This means that fundraising is a key part to keeping the club going. We do sometimes apply for grants and funding from businesses, organisations and the council, but we also do fun things like sponsored events, raffles and cake sales.
If you are thinking about joining the club, we would be happy to have a chat with you. Maybe you can have a free try out session before you decide. We have some floats, sinkers and training aids so you only need to bring yourself, your usual swim kit and any supporters you need. Please see the contact us page for more information.